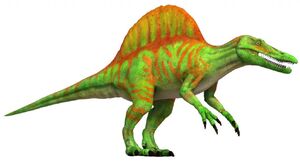 Spinosaurus(SPIEN-oh-SOR-us) is a Bizarre Large Theropod and The Largest theropod that lived in North Africa 102 to 93 Mya(Millions Years Ago).
Meaning: Spiny(Or Thorny) Reptile from Egypt
Length:50 feet (15.24 meters)
Height: 13 to 20 feet
Weight:6.8 tonnes/7.5 tons
location:Egypt, Morocco, Niger.
Timeline: 102 - 93 mya
INFORMATION
Spinosaurus was shown in a variety of different episodes. Spinosaurus is mostly guest appearing, mostly attacking plant eaters such as Stegosaurus (Moody Dino) and Diplodocus but occasionally will be the main Dino (Dino Sightseeing).
APPEARANCES IN EPISODES
It First Appeared in Dinosicles.